Canyoning Magic Rio Nero in de aanbieding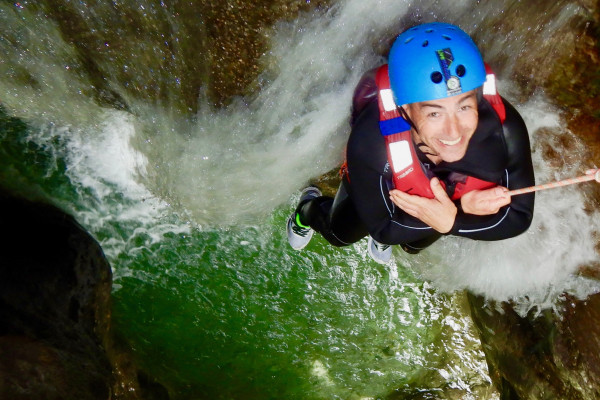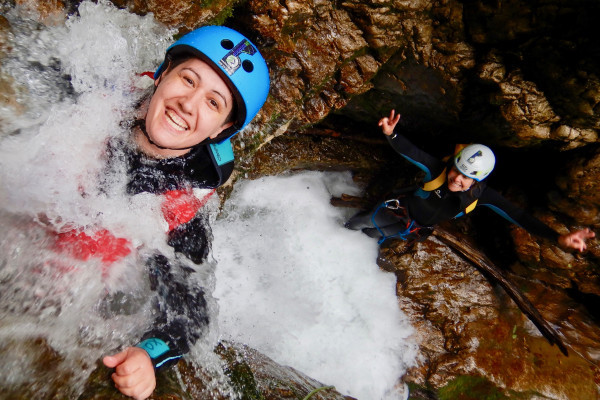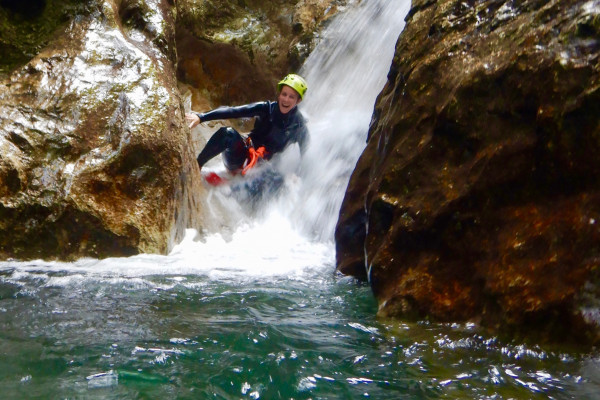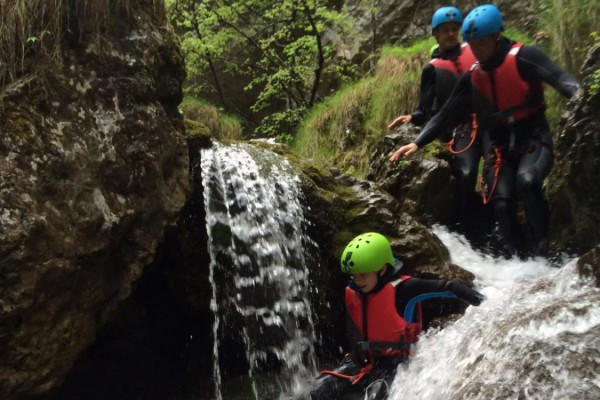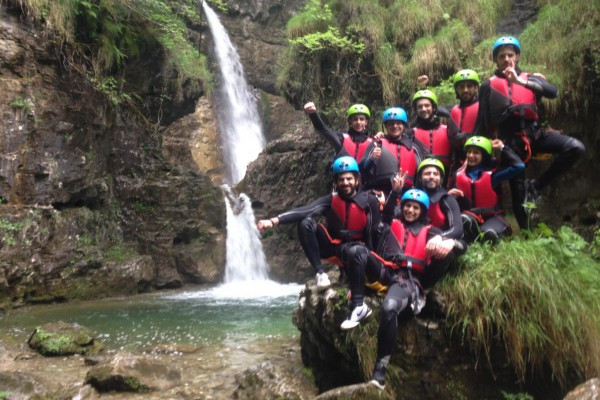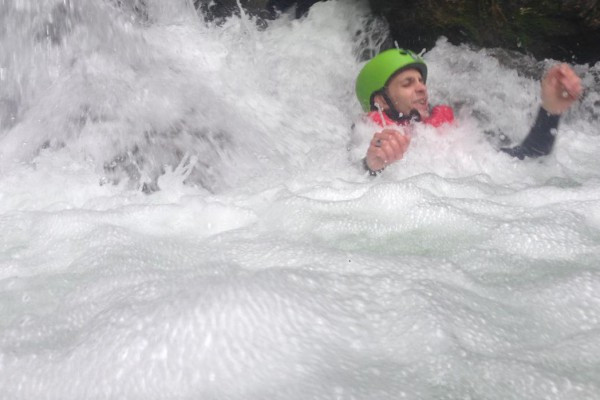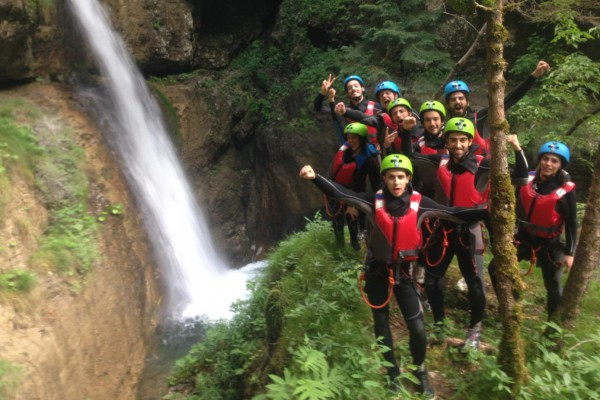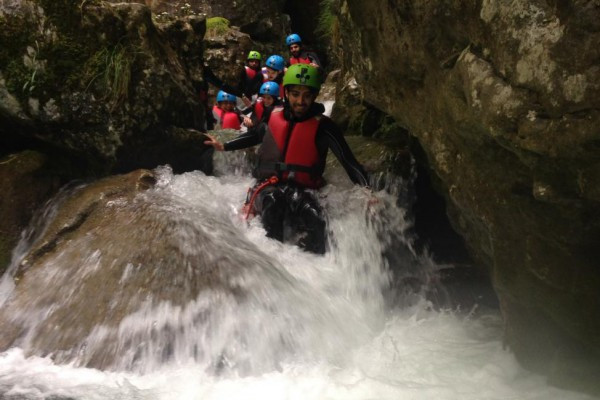 Discover energy and adrenaline by diving in Nero Creek, enjoy the charming environment full of emotions and well-being.
Canyoning
voor iedereen
leuke avontuur
Inbegrepen

Berggids en gecertificeerde canyongids, 5mm wetsuit and sokken, reddingsvest, helm, canyongordel.

Niet inbegrepen

Transfer (Er is de mogelijkheid om vanaf Riva del Garda naar het activiteiten centrum te worden gebracht). Als we de mogelijkheid dan zullen we foto's maken van de activiteit, echter is dit niet altijd. Af en toe kan er na afloop van de activiteit als er tijd voor is stoppen voor een drankje. Dit is niet inbegrepen in de prijs.

Duur
4 Uren
Mee te nemen

Wetsuit, sneakers of wandelschoenen die nat mogen worden, handdoek, snack, action camera

Deelnemer
min 2

Gratis voor toeschouwers
Talen
Engels, Italiaans, Spaans, Duits, Nederlands
Belangrijke informatie

Canyoning is een activiteit waarbij je het grootste gedeelte van de tijd in het water bent, afdalen langs een natuurlijk parcours met alle schoonheid ervan, maar ook gevaar. Door dit parcours zijn er allerlei glijbanen en watervallen vanaf waar de gids jou kan abseilen, cliff waar je vanaf kan springen of niet (sprongen zijn niet verplicht, je hoeft ze alleen te doen als je dat wil en als je jouw zeker voelt, kinderen kunnen alleen springen met toestemming van hun ouders of de verantwoordelijke persoon van het kind, de beslissing van een sprong is persoonlijk op het moment van springen, je bent zelf verantwoorlijk voor enige blessure of iets anders wat mogelijk kan gebeuren tijdens het beslissen van de sprong, in het geval van kinderen zijn dit de ouder/familie) Tijdens de toer zijn er kleine meertjes en paden waar we over lopen, het kan erg glad en afgelegen zijn. Als je canyoning verkeerd uitvoerd kan het gevaarlijker worden, dan het eigenlijk al is. Er zijn veel risico's en de kunnen slecht eindigen, zoals onderkoeling, blessures, verdrinking, etc. LOLgarda zal u alle informatie geven en voorzien van een compleet technische uitrusting, zoals wetsuit, canyongordel, helm, reddingsvest en neopreen sokken, geen schoenen. In het geval dat je op vakantie bent met alleen sandalen, laat het ons dan weten. U wordt begeleid door berggiden met een specialisatie in canyoning. Onder de 18 jaar is het verplicht te worden begeleid door een volwassenen, wie de verwantwoordelijkhied over jou draagt tijdens de toer. LOLgarda is niet verwantwoordelijk als er tijdens de toer iets natuurlijks gebeurd zoals het vallen van bomen en stenen of enig ander natuurlijke situatie dat iets kan veroorzaken bij een persoon of object. Gids beslissingen kunnen niet bediscussieerd en hij is de enige persoon die beslissingen kan nemen voor de gehele groep, hij zal u abseilen en zal u vertellen waar en hoe je kan springen. hij zal de juiste informatie geven om deze activiteit op een veilige manier te doen. In het geval dat er één of meer deelnemers van de activiteit niet willen luisteren of niet doen wat de gids zegt, dan kan de gids besluiten om de gehele toer te stoppen voor de gehele groep of voor diegene. Het kan namelijk te gevaarlijk zijn voor iedereen. Hij behoud het recht om de activiteit te verplaatsen of te annuleren vanwege slecht weer of een laag aantal deelnemers. Als de activiteit is gestart dan kan er niet meer worden omgedraaid, de enige manier is de canyon af te maken en in sommige gevallen zijn er nooduitgangen. If the customer doesn't show up or doesn't take part at the activity there will be no refunds.15 minutes max delate after that time the guide will start with the persons that are there or cancel the activity and there will not be refund for whom that are late.Before starting the activity there will be a briefing, where we will explain the canyoning rules;if you have any problems (panic attacks, some physical problems, diabetes or other things), please let us know this will let you still take part, but it is important to know so that we can react in the right way in case something happens.Canyoning is an activity that everybody can do with good physical conditions and has a good confidence with water;In case that the activity is cancelled for bad weather conditions or other causes,(LOLgarda decide to cancel for safety reasons) you will get a voucher from the same amount valid a year, to use for the same or an other activity;Buying this ticket,you have read and taken note of what has been written; It is really important after you have booked to leave a phone contact, please send us a msg in case you didn't put a number during your reservation at 000393285486497 with your name, date, time and name of the activity so in case we need it we can comunicate on time some changing, in case there are some;
Locatie van het gebeuren
we meet up at our canyoning centre if you do not have a car please contact us so we can organise the trip to us
Canyoning & Outdoor Centre LOLgarda
Via Ampola, 3, 38067 Ledro TN, Italia
yes at our centre
bus stop bivio per tremalzo
Aanbiedingen van
LOLgarda by LiveOutdoorLife
38067 - Trentino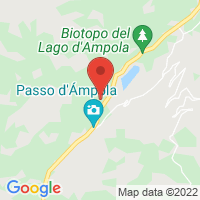 Meer informatie
Canyon located in Ledro Valley just above Riva del Garda, it offers many 4m/7m-high jumps, natural slides, vertical descends in waterfalls by ropes and gives the unique chance to admire the inner environment. The adventure starts at Ampola Pass where a 20-minute -long trail brings to the creek. After an appropriate explanation concerning safe actions and descending positions we will be ready to jump! With LiveOutdoorLife #lolgarda you just run the risk to have much fun.In the description yu will find that it takes 4h, including the time we take to let you sign the documents, give and wear the technical equipment and so on, in the water we will be approximatly 2 or 3 hours, could be more or less it is different with every group and we can't know it in advance;
32 beoordelingen
Tour was spontaneously cancelled
When we arrived at the meeting point, nobody was there. So we called the office and found out that something had gone wrong with the booking and they had been expecting us two days later. After some phone calls, we could eventuall not go on any canyoning tour.
We got back our money and a very friendly apology by the organiser so no worries there - but still it's a shame because we were very much looking forward to the activity.
van Rebecca op 11-10-2022
Great fun and beautiful scenery!
We were made to feel very welcome by the owners who spoke very good English. The setting is beautiful, the activity is fun and challenging and everyone had a fantastic time!
van Alan scott op 15-09-2022
thank you so much we are happy and great full for your words see you for your next adventure
Everything was awsome
Tha k you very much guys!!! Very nice trip în your companionship!
van Vlad Tamasan op 31-08-2022
thank you so much Vlad it was a pleasure for us having you in our group, see you in the future for new adventures